Think about Sacramento's past and the Gold Rush comes to mind.  But that's only part of the story.
The Sacramento History Museum is dedicated to Sacramento's rich and diverse history.  Our galleries and exhibits explore the history and stories of the area's first inhabitants, the pioneers who settled here during the Gold Rush, life on the farm, and more.  The Museum also features interactive exhibits that bring to life the people and events of Sacramento and its unique place in the history of California and the nation.
Underground Tours extended to winter holidays!
The Underground Tour season will continue through the holiday break, with tours at
11 a.m. and 1 p.m. Monday, Dec. 26, through Saturday, Dec. 31. Get information and tickets here.
The Underground After Hours tours are sold out for 2016, and will resume in May 2017.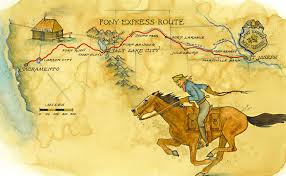 Pony Express Holiday Card Ride!!!
The California Division of the National Pony Express Association, is delighted to provide delivery of Holiday Cards using the Historical Pony Express Trail.
A rider will travel from Pollock Pines, CA to Placerville, CA on December 10, 2016 to pick up cards for delivery.
All cards will receive a special NPEA historical markings stamp, and then will be handed off to the US Postal Service. Please drop off your pre-addressed and stamped Holiday cards in the Pony Express Box at the Front Desk of the Sacramento History Museum.